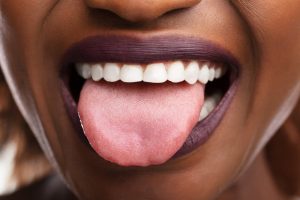 If you're looking for clues to find out what oral conditions and problems are lingering in your mouth, the first place you should start with is your tongue. This muscular oral organ is covered with a wet-looking tissue called mucosa that should always appear pink and covered with papillae, which are small bumps on the surface of it. If your tongue doesn't look this way, it could be a sign that you need to visit your family dentist in Ellington as soon as possible. Read on to learn what may be wrong with your mouth if your tongue is exhibiting certain symptoms or signs.
Is Your Tongue Covered in White Spots or a White Coating?
If you notice a white film or white spots that are covering your tongue, it could be a sign of thrush. This is a common issue that develops with patients who have taken antibiotics or have dentures. Some additional risk factors include illness, pregnancy, certain medications, and smoking. Thrush is an oral yeast infection that causes white cottage cheese-consistent patches to cover the surface of your tongue.
Another condition that could cause these symptoms is leukoplakia, which typically isn't considered dangerous, although it can be a sign of cancer. If you notice that you have white patches on your tongue and oral tissues, be sure to visit your family dentist in Ellington for a cancer screening and oral evaluation to rule out the condition.
Is Your Tongue Red?
At some point in your life, you may notice that your tongue is red due to a vitamin deficiency. If you haven't been consuming enough folic acid and vitamin B-12, it could cause this. A strawberry-red tongue can also be signs of scarlet fever and Kawasaki disease, which both require immediate medical attention.
Does Your Tongue Look Black and Hairy?
Just like the hair on your head, your papillae (the bumps on your tongue), also grow throughout your life. For some people, their papillae can become incredibly long, easily trapping more bacteria and food debris on the surface of their tongue. As these substances begin to accumulate, it can cause your tongue to appear dark, almost black, and look hairy. This condition is fairly rare and typically not serious, but if you notice the symptoms, it's a sign to practice better oral hygiene.
Does Your Tongue Feel Sore and Bumpy?
Bumpy and sore tongues can be caused by a variety of issues, including:
Trauma: Most people have burnt their tongue on hot food or bitten it before, causing it to become sore.
Smoking: Smoking can irritate your oral tissues and cause tongue soreness.
Canker Sores: Canker sores can develop on your tongue but should heal without being treated within one to two weeks.
Oral Cancer: Abnormal lumps or sores that don't disappear within two weeks can be a sign of the early stages of oral cancer.
If you're experiencing any out-of-the-ordinary oral symptoms, the chances that they'll disappear on their own is extremely low. In most cases, oral health problems only get worse with time, not better. That's why it's important to schedule an appointment with your family dentist as soon as possible. With timely intervention, you can stop these issues in their tracks and keep your mouth in tip-top shape.
About the Author
At Zahner Dental, we focus on providing families with trustworthy, reliable, and high-quality dental care. After all, our team of dentists are all family themselves! We provide comprehensive dental care to patients of all ages, and welcome parents to bring their children. Using state-of-the-art technology, we're able to tackle oral health issues before they have a chance to wreak havoc on our patients' mouths. We also offer convenient early and late appointment hours to accommodate our patients' work and school schedules. For questions or to schedule a routine checkup and cleaning, visit our website or call 860-870-9031.