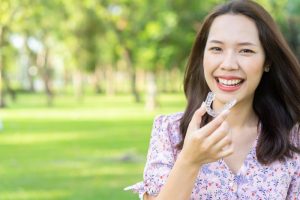 Now that the weather is warming up, the sun is shining, and summertime is finally here, many of us are excited to go on fun and exciting vacations. If you have Invisalign in Ellington, you may be wondering if your orthodontic treatment will get in the way of your fun in the sun. Thankfully, these clear aligners make it easy to get the straighter smile you've always wanted while you enjoy your vacations. Here are five benefits of Invisalign that you can enjoy wherever you're travelling this summer.
1.) Invisalign Is Easy to Care for
If you've packed a dental travel kit before for previous travels, you probably already have most of what you need for your vacation with your Invisalign aligners. Before you leave, make sure you're bringing:
Travel-sized toothbrush: Keep it somewhere convenient to clean your teeth on the go.
Travel–sized mouthwash: If you can't brush your teeth after eating, mouthwash is a good alternative.
Extra aligners: If you'll be travelling for a few weeks, make sure to bring your next set of aligners.
2.) Invisalign Lets You Eat What You Want
Since your Invisalign aligners are removable, there are no dietary restrictions that come with straightening your smile. Feel free to eat all the exotic foods and summertime treats you like without worry! Simply take your aligners out, enjoy your meal or snack, then brush your teeth off before popping them back in.
3.) Invisalign is Comfortable & Safe
Invisalign aligners are a more comfortable and safer way to straighten your teeth while on the go than traditional metal braces because:
They shift teeth gently: On average, Invisalign patients report less discomfort than those with metal braces.
They won't cut or irritate your soft tissues: Without any sharp metal wires or brackets, Invisalign aligners won't damage your cheeks, tongue, or lips.
They're safe for sports: Remember to remove your aligners before playing volleyball, football, or any other summer sport.
4.) Invisalign Won't Show Up in Your Summer Photos
Invisalign aligners are nearly invisible, and it's unlikely that anyone will even notice you're wearing them unless you point them out! So feel free to smile confidently in all your vacation photos.
5.) Focus on Fun, Not Your Teeth
Straightening your teeth with Invisalign allows you to focus on having a good time and making memories instead of feeling self-conscious about your teeth, so you'll:
Smile more often: When you're not worried about who can see your teeth, you'll naturally start to smile more often.
Feel more confident and relaxed: Smiling triggers the release of chemicals in your brain that foster sensations of confidence, happiness, and relaxation.
Boost the mood of those around you: Smiling is contagious, so feeling good about your pearly whites will improve everyone else's smile as well!
Whether you're headed to the airport, the open road, or just your backyard this summer, Invisalign can help you enjoy your vacation while giving you a straighter smile!
About the Practice
Zahner Dental is a family-run practice that's been serving the Ellington, Ct community for over 40 years now. They focus on helping their patients achieve a smile that looks and feels its best, then maintain it for a lifetime. They are proud to use state-of-the-art dental technology and techniques like Invisalign for the most precise, comfortable dental treatments. If you have more questions about travelling with your Invisalign aligners, feel free to contact them via their website or at (860) 870-9031.