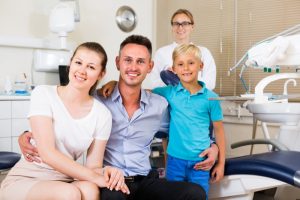 As a parent, your schedule is jammed pack and you're constantly running around town trying to keep up with everything from parent-teacher conferences to after-school activities. You may be getting tired of visiting multiple dentists to accommodate each of your family member's needs, which means it's time to make the switch to seeing a family dentist in Ellington. This is the best way to consolidate your schedule and even have a little extra time for yourself at the end of the day. Read on to learn 5 great benefits of switching to a family dentist.    
Simplify Your Dental Care
Because a family dentist is able to treat everybody in your household, from elderly members to toddlers, they'll all be able to get the care they need in one place. Instead of having to coordinate with everybody's schedule before you make appointments, you can schedule everyone's visits for the same day. By avoiding having to visit multiple dentist's, you're able to simplify your life. This also allows all your children to see the same dentist, even when they grow into adults.
Get Comprehensive Treatment
Your family dentist in Ellington can provide all your loved ones with comprehensive care. This is because they're trained to treat patients of all ages, from fitting older patients for dentures to treating your little one for a cavity. Whether you're wanting to get teeth whitening treatments or schedule semi-annual checkups and cleanings, they can provide you with everything your family will need so they can get the oral care they deserve.
Develop Personal Relationships
All your loved ones will get to grow up visiting the same dentist. This will allow them to get comfortable and develop great relationships with them. They'll have a chance to get used to the care that they're provided with. Plus, it can be a great way to help your children overcome any fears they have about the dentist. You'll be receiving the same care as your children, so you won't have to wonder how they're being treated or if they're comfortable.
Get Your Family the Care They Deserve
Seeing a family dentist makes it easier for them to track your family's dental history and provide everyone with the best treatment. Having to transfer files from a pediatric to general dentist's office could affect the care your children receive. Your dental history and chart will stay in one place and allow any problems to be more easily addressed and prevent information from falling through the cracks.
Your Children Will Be More Comfortable with You There
If you have a little one, they may be hesitant visiting the dentist until they get used to it. Seeing the same dentist will allow your child to watch you get your teeth cleaned. All your loved ones can even have their teeth cleaned together. This allows you to set an example for your children and show them that caring for your oral health is important, even when you get older.
If you aren't taking your loved ones to see a family dentist yet, it's time to make the switch. Lighten your load by taking your entire family to the same practice to get comprehensive care. Before you know it, your dentist will feel like a part of the family too!
About the Author
Dr. Warren Zahner enjoys treating smiles of all sizes as well as multiple generations of patients in the same family. He knows the importance of family, in fact, he works alongside both of his sons at Zahner Dental! He takes pride in continuing his education, so he can provide his patients with the latest advancements and technology in dentistry. For any questions or to schedule an appointment, visit Zahner Dental's website or contact 860-870-9031.