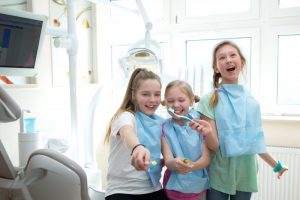 Walking out to your car to leave for work, you notice the air is becoming thick with moisture. You catch a glimpse of your flowers beginning to bloom on your front patio, and you know it's time to scrub the house clean! The start of spring means collecting all the stray pieces of your life and creating a more organized and healthier you. So why not start with cleaning up your oral health before you start with the house? After all, your body is the most important thing to take care of. Read on to find out what benefits going to your semi-annual checkup and cleaning with your dentist in Ellington have to offer you.
Why Are Regular Dental Cleanings and Checkups Important?
Some patients may not be aren't aware of how often they should be visiting their dentist for checkups and cleanings. Attending regular semi-annual dental appointments helps keep your teeth and gums healthy. Your dentist will pinpoint any trouble areas and help you adjust your oral hygiene routine so you can notice better oral health results. They'll remove any plaque and tartar which can help keep your breath smelling good and keep tooth decay at away.
If it's your first time seeing a new dentist, they will also be able to assess if you are at high risk for developing certain oral problems by asking about your family medical history. This can help you make necessary changes to help avoid issues you have a high risk of developing like gum disease or oral cancer.
What Kinds of Problems Can Your Cleaning and Checkup Help Prevent?
Attending your semi-annual checkup and cleaning can help you prevent several serious health issues. Here are a few:
Your dentist will check for signs of oral cancer which is an incredibly serious disease that can quickly progress and become life-threatening. Typically, some symptoms of this include oral sores that don't heal, white or red patches inside your mouth, or difficulty swallowing. Early detection of oral cancer is the key to a successful treatment.
They will also inspect for any signs of gum disease which is caused by excessive plaque and tartar buildup. This is when your gums become infected and inflamed. Your dentist may be able to spot signs like growths or lumps in your mouth before they progress into something uncurable.
By taking X-rays, your dentist can spot problems that lie under the surface like impacted teeth, bone decay, swelling, and tumors. Catching these when they're only small problems can have life-changing impacts.
What Happens During Your Routine Visit?
Your visit will include two parts: the examination and the cleaning. Your checkup consists of a head and neck examination, as well as an oral exam. Your dentist will check your face, neck, and lower jaw joints to spot any misalignments or trouble areas. They'll then look at your gums, oral tissue, tongue, and bite. This can be key in determining if you show signs of tooth decay, broken teeth, gum disease, or damaged fillings.
After that, once you have shared any concerns you may have with your dentist, they or one of their hygienists will start to thoroughly clean your teeth. They remove hardened plaque and tartar collected below and above your gumline that you can't remove with your toothbrush. They'll also floss around each tooth to remove food debris and other odor-causing problems.
A simple check-in and examination with your dentist could save you from a whole slew of health issues. It can also save you time and money in the long-run. Scheduling your semi-annual visit isn't just positive for your health, it's also great for your peace-of-mind. So start your spring cleaning marathon off with taking care of yourself, then your attic!
About the Author
Our dentists at Zahner Dental know that maintaining your oral health is vital no matter what your age. Our patients are now bringing their whole families to see us for their checkups and cleanings– even the kids! Since we see all ages, you won't have to waste time traveling to separate practices all over town. To schedule an appointment or for any questions, visit our website or contact us at 860-870-9031.