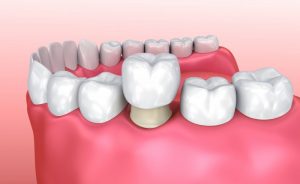 Our lives are very busy these days. Between work, school, family, and other social engagements, it can be almost impossible to find time for two dental appointments to get a crown. Luckily, your dentist has a solution – CEREC in Ellington. CEREC crowns offer several benefits that traditional crowns do not, the big one being that they can be crafted in just one day, minimizing your time spent at the office. Let's learn more about CEREC crowns and their other advantages.
What Is CEREC?
CEREC is short for Chairside Economical Restoration of Esthetic Ceramics. That's just a fancy way of saying the crowns are all-ceramic, meaning they can be created in one appointment in your dentist's office without having to be made in a lab. Crowns can do multiple things for a tooth, including:
Protecting a tooth that has been treated with root canal therapy
Concealing a tooth that is severely misshapen or discolored
Covering a dental implant
Repairing a tooth that has serious decay
Traditional crowns are made by taking impressions of your tooth and sending them off to a lab. In the meantime, you'd have to wear a temporary for a few weeks, which is weaker than your permanent crown and more likely to get broken or dislodged. With CEREC, however, the permanent crown can be made in an hour or less. You'll simply have to wait in the office for a while, but it's much easier than having to schedule two separate appointments!
What Are the Benefits of CEREC?
There are numerous advantages to getting a same-day crown in Ellington, including:
No need for a temporary. Instead of wearing a weak plastic crown for a few weeks that could break or fall out, your permanent crown is crafted in just one appointment.
Less anxiety. Many people are scared of spending time in the dental chair, so even driving to the office can cause anxiety. CEREC literally cuts your anxiety in half by reducing the amount of time you need to be at the dentist's. You have nothing to worry about!
More durable. Because CEREC uses a single block of solid ceramic instead of pressed ceramic and metal like traditional crowns, they are able to better withstand the force of chewing. They can last for ten to fifteen years with regular brushing, flossing, and dental checkups.
More comfortable impressions. CEREC takes impressions by using a tiny digital camera, making the process much easier and less gross than using the sticky putty of traditional crowns.
Now you can see why most patients prefer CEREC same-day crowns to regular ones. The whole process is much easier, and they last a lot longer.
About the Practice
Drs. Warren, Shawn, and Jonathan Zahner are passionate about carrying on the family tradition of providing high-quality dental care to their patients in the Ellington, CT community. They offer CEREC same-day crowns to make sure their patients receive the best yet quickest care possible. To find out if CEREC crowns are right for you, contact them here or call (860) 870-9031.