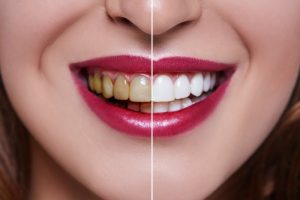 It's no secret that plenty of people are worried about having a less than dazzling grin; in fact, according to the American Academy of Cosmetic Dentistry, "whiter teeth" is the most common change for Americans to want to make to their smiles. Plenty of products at the store claim they can help you with this goal, but is that really the best solution? Learn why professional teeth whitening in Ellington could be the best way to help a set of pearly whites that have lost their gleam.
How Do Teeth Become Discolored?
If your teeth aren't as white as they used to be, there could be a few different reasons:
Dark-Colored Drinks: If you drink a lot of coffee, tea and red wine, the color pigments they contain will start to stick to the whiter enamel layer of the teeth.
Tobacco: Cigarettes contain tar and nicotine. Tar is very dark, and nicotine turns yellow once it's been exposed to oxygen. Both have a tendency to stain teeth.
Age: As your enamel wears down over time, the yellowish dentin layer underneath will start to become visible.
Medication: If a child is exposed to tetracyclines or certain other medications, their adult teeth could become discolored.
No matter what the cause, if you want to get rid of stains or discoloration on your teeth, you'll need to find the right kind of cosmetic treatment.
What's the Difference Between Professional Whitening and Store-Bought Whitening?
Getting whitening products over the counter might seem more convenient at first, but if you're looking for results, there are several advantages for getting a whitening kit from a professional instead. For one thing, the bleaching solution in a kit provided by the dentist is far stronger than anything you can get at the store; there are certain stains – such as those caused by tetracycline exposure – that only a professional treatment will be able to address.
You can also expect longer-lasting results from a professional whitening kit. Take-home products like tooth whitening strips create results that generally only last for about four months or longer. On the other hand, professional products like the KOR Whitening System can last for years at a time even if you indulge in dark-colored beverages from time to time.
Finally, if you have concerns about your oral health, you'll definitely want to leave teeth whitening to your dentist. Not only is the professional solution said to be safer than the store-bought solution, but you'll also have the benefit of your dentist's expert guidance.
If you feel embarrassed whenever you look at your teeth, call your cosmetic dentist in Ellington to ask about KOR Whitening or other treatments. When it comes to improving your pearly whites, it's always best to leave it to an expert!
About the Practice
At Zahner Dental, we've been serving Ellington for nearly 40 years, and our dentists are local residents who deeply love helping their community. They use the KOR Whitening System to help patients who want to make their smiles more dazzling. If you're looking to make some cosmetic improvements, you can schedule an appointment by visiting our website or calling (860) 870-9031.